So here is my review of Americana 2013. It is a week late but I've been so busy since I got back. I'll stick to the headliners and a few 'honourable mentions' rather than trying to cover every act on every stage. Which would be impossible anyway.
First off, a word about event security as it was an question raised on this forum. Security was handled this year by Definitive Security Services and from the start they were much more visible than their predecessors. I don't think they had run security on a country music event before because at times they seemed just a bit too officious but they did the job. The bit of hooliganism that ocurred on Saturday night was swiftly contained and most festival-goers hardly noticed.
To the entertainment then, and the Friday headliner PJ Proby.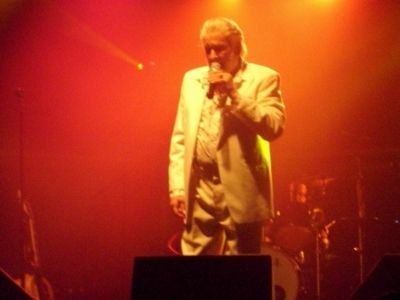 I'm glad he comes up first as I can get the unpleasantness out of the way early. Any review is just one person's opinion and my opinion is that Proby is an arrogant, talentless hack. His spot was opened by the '60s band Vanity Fare who did a few songs including their hit record, Hitchin' A Ride, before introducing PJ Proby. Practically all singers I've seen appreciate their backing band because they know they're only as good as the musicians stood behind them. Not so Mr Proby. Twice he stopped them in mid introduction, scolding them over the tempo (before then doing the song at that tempo). He said, "If the performance isn't too good tonight, it's their fault for getting it wrong." He lost me at that moment and never won me back.
Naturally, he told the story of the pants-splitting episode in his career-making 1965 tour. And naturally his version differs completely from Mervyn Conn's. He claimed he was set up by Mary Whitehouse. Don't know who he was trying to kid with that? I don't actually have a problem with a bit of misrepresentation; it's a singers job to look good, not be historically accurate over an event of which anybody who cares, already knows about.
Apart from being rude to his band, Proby was a bit shambolic. He had a music stand on stage (which is not wrong in itself) but if you're going to use a stand, you should keep your lyric sheets tidy and unobtrusive. Not let them spill all over the place or fall on the floor where you have to look for them later.
And don't think that I should take it easy on him on account of his age (75), it doesn't work like that. Earlier in the afternoon we had Jay Chevalier (77) also working with a Brit pick-up band who put on a first-rate rockabilly and country show which I enjoyed immensely. Also it was good to see forum members Ian Cal-ford (White Doves) and Gary Quinn.
Saturday was ladies day – Georgette Jones and Mandy Barnett. Yes, Georgette did show.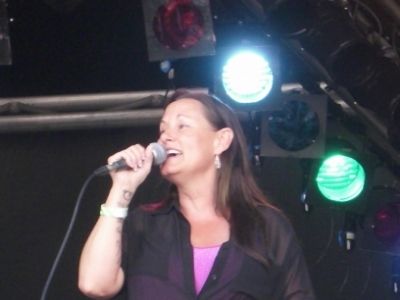 She is a pleasant looking lady with a pleasing singing voice. She sang a lot of her Mom's songs, some of her Dad's and a few of her own. Don't get me wrong, I enjoyed her show. I just can't rhapsodise over her too much.
It maybe the fault that she was over-shadowed somewhat by Mandy Barnett. From the moment Mandy took to the stage I was transfixed. She was so beautiful. Yes, I'd seen the same publicity pics that we all have and I have to say, they don't do her justice, folks. She is simply gorgeous. And for the duration of her show, she owned that stage. Whereas Georgette went with a more relaxed, laid-back vibe, Mandy set out to command, and she did. Her musicians came out dressed for the occasion in suit and tie, setting out that this was serious business before Mandy came out dressed n a little black dress, albeit with hideous, multi-coloured tights.
To be fair to Georgette, she did have the mid afternoon set, while some people were dozing in the sun, so her more casual style fitted with the mood then. Mandy was second lead headliner, so the heat of the day had passed and the audience was more prepared to get into it. That helped but I don't want to take anything away from Mandy's performance by saying that. Mandy has that stage performer's style of over-articulation that leaves every word crisp and clear. Definitely the higlight of the day. Unfortunately I don't have a pic of Mandy. All my photos came out blurred (insert your own joke here).
The actual headliner was Billy Yates. Working with Henry Smith's band, he was the consumate country singer. Great voice, a truckload of top songs and a nice guy persona. I'd also like to give a mention to the band on before Georgette Jones in the afternoon, the Sonny Walters band. They are a Brit band who are bold enough to do all original material. I'd like to see them again sometime.
After that Saturday, Sunday seemed like a bit of a downer in comparison. Still good though. Raintown have moved beyond their influences. Need You Now has been dropped from their setlist and Lady A were not mentioned at all. With nearly all their own songs and with their own band behind them, Claire and Paul are becoming the act they set out to be.
I caught a neat band down at the Rock n Roll stage, a surf band called Los Calamares which I think means The Squids. If you're not familiar with what a surf band is: they are all Hawaiian shirts and twangy guitars. They also tend to do a few instrumentals. These guys did, including some cracking film scores.
But to the guy I'd been waiting to see since the line-up was first announced, Bill Kirchen. Aka: the King of Dieselbilly.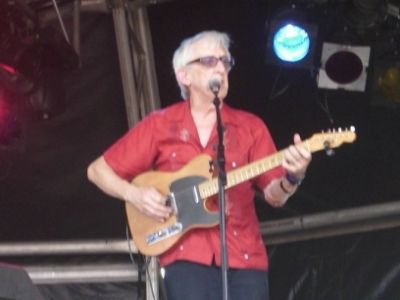 Bill is a hero to guitar players everywhere. He looks like some little old guy who might blow away in a strong wind but he makes that old Telecaster howl and sing. Working with a stripped-down backing of a drummer and bass player, there is no place to hide. Not that he ever did. He took centre stage and treated us to a masterclass of guitar magic.
Most people will have heard Bill playing Hot Rod Lincoln. It's pretty good heard on disc but live it's a different beast. It became a twenty minute exhibition of a master at work. At one point in it he name checks other guitarists and plays a snippet of their playing. It looks a bit bald written down like that but onstage it rolls on like a tidal wave of hot licks. If you've got his latest record, Seeds and Stems, you'll have an idea of what it was like. You won't get the sound effects though.
Bill has modified the switchplate on his guitar so he can make sound effects like car and truck horns and even a ship's hooter which he incorporates into Hot Rod Lincoln. It has to be heard to be believed. I tell you, I came away a happy man.
And that's about that. Next year the Americana will be moving from it's long-time home at the Notts showground to a site near Loughborough where the headliners will be Chas and Dave.