2014 saw Americana move to a new home at Prestwold airfield, near Loughborough. It is about the same size as the Newark showground but with less amenities. The lack of any buildings onsite was countered by the erection of a circus 'big-top' marquee to provide a bar area and a third stage. Bit of a mixed result: only one bar for the whole site meant it was always thronged ( the introduction of drinks tokens – 3 for £10 – instead of paying in cash did help speed things up ) and the uneven ground underfoot led to a bit too much spillage. They definitely need one bar to each stage area next year. Hot showers were available all day in special travelling units and were made much use of as were the usual wide array of food outlets. But now to the important part, the music.
The festival was opened on Friday by the diminutive frame but powerful voice of
Sierra Cecil
. A young lady from San Antonio, Texas.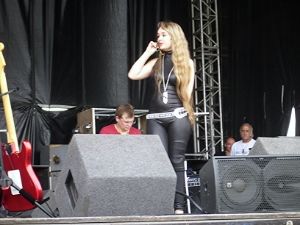 Followed by the "posh bird from Surrey"
Boxcar Kelly and the Railroaders
, an immaculately turned-out band who drew all their repertoire from the '90's country music explosionin the U.S. Not a bad thing in itself.
Next up were
Knoxville Highway
. A more traditionally styled quartet who were joined for three songs by a girl singer named Lacey Mai who gave what seemed a somewhat passionless performance to me.
Then, the
Twangdaddies
. A stripped- down, no frills country band. And yes, that's forummer Roger Humphries on the left.
By now the evening was getting on and so were the Mod All Star band. The stars being
Steve Ellis,Chris Farlowe and Lorraine Silver
.
After that I left the main stage to
T.Rextasy
and went over to the big top to see
Caravan of Wayne
. They are a true Americana band because about ten years ago Wayne 'the train' Hancock appeared here and a few of the lads in the audience were so impressed they formed a band covering his material and other songs in his style.
Finishing off the night were
Acoustica
, a band doing classic rock songs with acoustic instruments.
Saturday to follow.